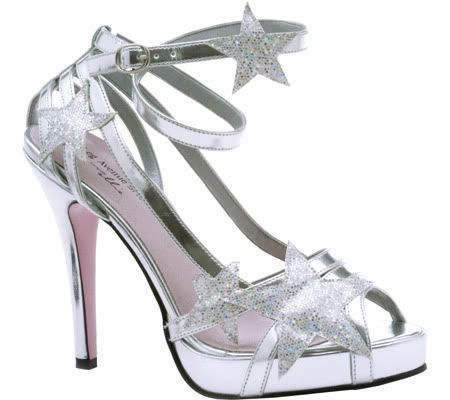 I did it. I gave in to my lust...for shoes. In my own defense, I was lusting after a pair of Jimmy Choo rainbow snake skin heels, but couldn't possibly justify the $800 expense. :P Instead, I went with another (earlier) object of my shoe lust. A pair of Starlight heels. A fraction of the cost, and just as eye popping.
What can I say? I LOVE stripper shoes. I'd happily Swiffer in them if I thought I wouldn't mess up the shoes - for realz.
I usually pair them with something casual, and I'm thinking this gaudy, glitzy, pair of awesome would go good with the updated, 80s style silver batwing blouse I have in my closet. I could pair the shirt with either my black suede skirt or black trousers. Or... Or, maybe I'll save up a couple of twenties and spring for a batwing dress similar
to this one
. Yes. I'm absolutely hopeless.
Moving along... The vampires novel is progressing. Of course, it would make for a far greater word count if I didn't have go to somewhere every 30 minutes. Seriously. I'm so thankful tomorrow is graduation. We'll have our day to celebrate Oldest's high school accomplishments, and afterward, we are DONE. Done for the entire summer. W00t!
That's all for now. I've been trying for three hours to get this post written, and I'm kinda running out of fortitude. Before I got, I want to say Happy Birthday to my Daddy. I could be biased, but he's the best Dad on Earth. Hey, he puts up with me, so there's gotta be something to it, right? ;0)