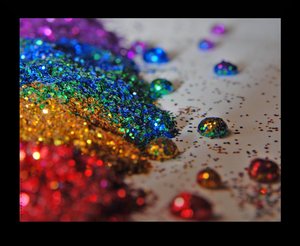 Hubby is home today. It's "mid-week" on the rotating shift he works. I stayed up til almost 3 AM last night writing because I knew he'd be home, and managed to get quite a bit of writing done. Speaking of which, I matched my writing goal. I wanted to clear 20k this past weekend, and before adding to the count this morning, my wip was hovering somewhere around 22k. So there's some sparkly news.

I've put in 500 words today so far. Not the jump out the gate I was hoping for, but I took the morning off to chit-a-chat with mom on the phone and get caught up in all the local gossip. ;0) After that, I decided it's too distracting to keep writing at the desk in the dining room with all the guys hanging out in there, so I spent a good two hours clearing off the desk in my office and moving all the cpks back onto the shelves so I could have my wicker egg chair for sitting in.

So, I'm actually blogging from the office today. Cool beans! Admittedly, I'd forgotten just how many words can fly, and how fast, when you have your own personal - and semi private - writing space. Originally I started writing from the dining room because when Mini was still a little bitty beast, he would crawl under my desk while I was writing and bonk his head on the pull-out keyboard tray. And so, I ended up putting the smaller desk in the dining room so he could play in the dining room floor while I worked.

At any rate, the project is going - so far so good. I discovered after about 30 scenes, that I'm gonna have to add in an alternating storyline from the anti-hero's POV. Otherwise, the story just kind of runs and runs breathlessly, and at the end, the anti-hero's importance is kind of like...huh? *_*

So, there have been more modifications to the plot, and more characters added, which has blossomed into two mini storylines to follow. So far everything is still "organized" and I have a handle on it. It seems like it's going to be twice the work, but I'm calling myself adventurous at this point, rather than crazy. We will see...

That's it for me. I'm off to work on edits. Happy Monday, everyone!