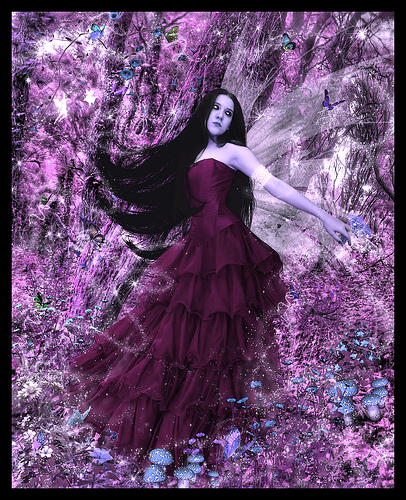 I've been sick today, hence the late post. Hubby stayed home to help me out with Mini, bless him. Hubby also made dr's appointments for us too. Both of us. The earliest either of us could get in is March 31st. *_*
I can't sit for very long without getting really yuck-ish, so a short post for today. I am almost finished with my final story for Weirdly 2. I have just two more scenes to go and it will be a wraps. I had to work on it from bed today, but what better to do? I'm about sapped though, so tonight I'll probably curl up on the couch with a book. I've got a short stack in the bedroom set aside to choose from.
Oh! And some
freaking awesome news
... the second review for
In the Gloaming
is in. This one is from
Cocktail Reviews
. We got the whole bottle of champagne, plus an extra flute that's not even on the rating's list! Woot!
Summary review for
In the Gloaming
(the book itself):
In The Gloaming really is a superior set of tales. I have read many authors and many anthologies, and this is the first one for me where every tale is rich and enthralling in their own right. I turned the page expecting more and found myself deflated that the book had ended. I wanted more, damnit!
- Nutty Nana, reviewer
and for
At the Edge of Twilight
(my story):
An absolutely charming, well written read. I thoroughly enjoyed the excellent imagery, the emotions, and the 'being there' feeling Ms. Zane created. I loved At The Edge of Twilight and urge anyone who adores captivating writing to check out Cora Zane.
Check out the whole thing here:
http://cocktailreviews.wordpress.com/2008/03/17/in-the-gloaming-freyas-bower/
That's it for me. My back is killing me, and the guys are sitting down for supper. I hope you've all had a snazzy Monday, and a rockin'
St. Patrick's Day!
*clover*