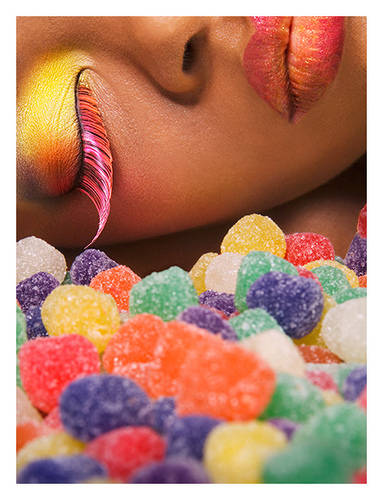 The guys at work let off early yesterday, so hubby made it home around one o'clock. I'd told him the day before we needed to go candy shopping to pull together a set of Easter baskets for the boys. When hubby came in, he was ready to go straight to the store, so I pulled on my shoes, grabbed some shoes for Mini, and off we went to Walmart.

Right when we come through the doors at Walmart, there is the Easter Bunny. A woman from the electronics department in a rabbit suit. It's the same rabbit suit as last year, white, with the vintage style head with an open mouth showing tongue and teeth, and these glaring, oversized blue eyes. Remember those old plastic banks in the 70s where the colors in the plastic always overbled the lines of the mold? Yeah. The rabbit head is like that. Freakville, I swear. It looks like something out of the original version of The Wicker Man.




Mini's first picture taken with the Easter Bunny is a captured moment of sheer terror. We can look at it and laugh. Mini, however young he might be, apparently hasn't forgotten the big bad Easter Bunny. The woman/bunny and her associate turned to him when we came in. "Hi! Do you want to have your picture taken with the Easter Bunny?"

Mini covers his eyes with both hands and starts shaking his head. "No!"

We put Mini in a cart and start wheeling him down the main aisle that separates the food from the clothes. He keeps craning his neck, peeking around my arm at the Easter Bunny. I ask him, "Do you want your pic taken with the bunny?" His reply: "Nope." It doesn't stop him from trying to look at her though.

*sigh* On to the candy picking. This year, I deserve a badge that says: I survived the Walmart Seasonal Department. Just as I suspected, the aisles were swarming. One woman had two carts parked in front of the displays of glitter grass. Her daughter, who was probably about 8 or 9, looked seriously nervous because there were quite a few unhappy shoppers trying to go around her and such. I didn't even attempt to get a cart down that aisle. I had hubby (and Mini) circle around the aisles like vultures. I would grab armloads of candy and mini-toys and take them to the ends of the aisles and put them in the cart. Sort of like a living video game. *_* Sounds silly, but it kept me from being elbowed, glared at, or otherwise run down by mad shoppers.

When Mini saw the bag of plastic eggs I put in the cart, he went nutty. "Give it da eggs, Mimi!"
I plopped them in his lap and told him that on Sunday the Easter Bunny would fill them up with candy and toys and hide them around Gramma's yard.

"We go it to Gamma's house?" he asks, excited.

"Yes, but not today. Today is Friday. We're going on Sunday."

"Aw!" *pout face*

Somehow I managed to escape the store with my sanity intact, and a decent haul of goodies. We also dropped by the bakery and picked up a sheet cake. OMG, I am so tempted to tear into this thing! It has white and blue sugar frosting. *drool* I'll take pics of it Sunday. I dare not look upon it's yumminess until then.



Caught in the Act!
All the times I've mentioned how Mini will do headstands on the couch and in the recliner, I have never come away with proof. I tell my mother and she just says, "Uh huh, dear. Cute." and keeps on working. I know she doesn't believe me. Well, now I have it - photographic evidence of Mini upside down on the couch. Little Rascal! Do you see what he has behind him - the TV remote. He knows he shouldn't be playing with that. :P
That's it for me. The guys are gone and I'm supposed to be cleaning. Ha! Happy Saturday, and if I'm not back in time to tell you later - Happy Easter!